Alright, a quick update on the blog first and foremost:
To all the people who have liked, contributed, shared, or otherwise supported this page, please accept my most heartfelt thanks from the deep, dark chasms of my black and hardened soul.
This blog is for you, all the content I research and post is for
you
, and
you
are the reason we have not only some of the most talented musicians and artists in the world, but we also have the most amazing and awesome people in one place. I appreciate every one of you, whether we have met in person or not.
Second, this morning brought the news of
Jason McCash's passing, former bassist of the band The Gates of Slumber, at the young age of 37
. Read more about it
here
, see reactions from within the metal community, and
learn how you can help his surviving family
(wife Bridget and three children).
The
Local Metal Calendar has been updated
.
A
new review
is up for the
Combichrist/William Control/New Years Day show at Empire on April 4, 2014
, courtesy of Steve from
HMC
.
Baltimore's own
Dweller in the Valley
has a four-song EP up on Bandcamp via Grimoire Records, titled
"Younger Dryas"
. Check it out and
have a listen here
.
Being a F@#&ing Lady
also has some new content. Perhaps not for the faint-hearted, though!
Now, onto something a little more personal. On Friday, April 4th, I was headed home from a doctor's appointment when my boyfriend Ryan texted me this picture: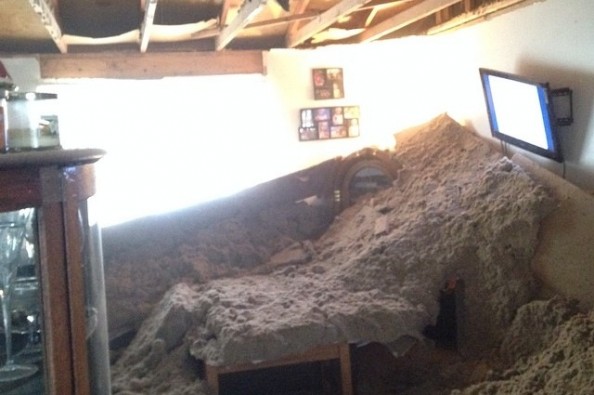 The ceiling at his parent's home had randomly and quite suddenly collapsed
shortly after a crack in it had appeared. Luckily, the only two people home were not in the room when the collapse occurred. They had, in fact, just stepped out to find something to secure the crack that had only just appeared.
This couldn't have come at a worse time, as literally
everyone
is in some sort of longstanding financial bind - myself and my boyfriend included - therefore leaving help scarce and options for repair minimal.
No matter how hard of a worker you are, or how much you contribute to your community and indeed society as a whole, poverty can be a vicious, seemingly unending cycle that only those with odds in their favor and great luck usually manage to break free of entirely. When something like this happens during a period of existing struggle, recovering from it can sometimes be damn near impossible.
The Pierson's are one of the kindest, most giving and loving families I've ever had the privilege to know. Robert and Lee Ann Pierson are incredible people, evidenced abundantly in their four grown children. When a nearby family fell victim to a house fire, Lee Ann actively helped them raise funds to rebuild their home. It seems unjust for this to happen to them so soon after.
Ever the reliable and helpful son, my boyfriend Ryan spent a good part of the day helping them to clean up and try and make it live-able enough for the adults of the home. Their two small grandchildren who were also living there have to stay elsewhere due to asthma and allergy issues that might be exacerbated by the mass amounts of insulation now exposed to the living area.
If you have the ability,
please donate a little to help them rebuild their home, and a big part of their lives as well
. They definitely deserve the help after helping so many others.
Not to mention I owe it to them to help share this, after being so graciously accepted into the family and reaping the benefits of having a boyfriend who was raised to respect women and treat the ones he loves with kindness and boundless generosity.
It's been a shitty week for a lot of us. My weekend didn't fare too well either... despite my efforts to turn it around and enjoy it, I still managed to have it all blow up in my face.
The only thing I can take comfort in during stretches of unpleasantness like this is that nothing is ever permanent. The comfort is lessened a bit in remembered that statement applies to both the bad
and
the good. C'est la vie. Try and try again.